Tin/Lead Plating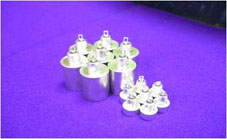 A leader in the metal finishing industry since 1928, Keystone Corporation provides high quality electrodeposited tin/lead (solder) plating for industrial and electronic applications. Tin/lead plating (also known as solder) is a deposit containing a mixture of tin and lead.
Tin/lead Plating Applications
Our tin/lead plating is available for rack or barrel applications. Keystone Corporation offers matte and bright tin/lead solder applications. Matte tin is not reflective, but provides corrosion protection and electrical enhancement to the substrate. Bright tin shares these properties and includes a higher aesthetic appeal. Keystone offers the following compositions:
Bright 60/40 (60% Tin 40% Lead)
Matte 60/40 (60% Tin 40% Lead)
Bright 90/10 (90% Tin 10% Lead)
Matte 90/10 (90% Tin 10% Lead)
Bright 95/5 (95% Tin 5% Lead)
Matte 95/5 (95% Tin 5% Lead)
Specifications
Contact Keystone Finishing For More Info About Our Tin/Lead Plating
For more than 90 years, Keystone Corporation has assisted customers in completing commercial orders ranging from a few specialized pieces to high-volume applications. All finishes are available for both Rack and Barrel plating applications. We maintain superior quality control through the entire finishing process, ensuring top-quality Tin/Lead plating at an affordable cost for any project. Our experienced staff will provide technical assistance as well as Certificates of Compliance to commercial, government, AMS, ASTM, and MIL specifications. Meeting your manufacturing needs is our top priority at Keystone Corporation. Contact us today to receive a personalized quotation based on your specific requirements.