Pickling and Passivation or Pickle Passivate of Stainless Steel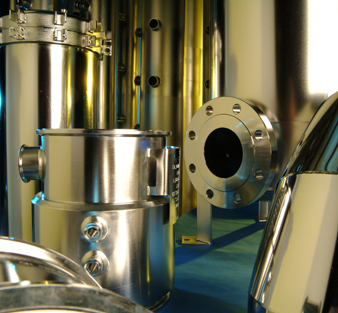 A leader in the metal finishing industry since 1928, Keystone Corporation provides high quality pickling and passivation or pickle passivate services for stainless steel. By meeting ASTM A380, we can ensure that our process for the pickling and passivation of stainless steel provides consistent reliable results for our clients.
What are Pickling and Passivation For Stainless Steel
Pickling and passivation are often used together on equipment to remove all contaminates and oxidation, improving the corrosion resistance, extending the life and overall value of your components.
Pickling utilizes more aggressive acids than those used in passivation. The chemicals utilized for Pickling of stainless steel are capable of dissolving oxidation, weld oxides and scale and is capable of etching the base material. Chemical Passivation is a "cleaner", more subtle process. The passivation chemicals used are not aggressive enough to dissolve surface oxides, thus, pickling may be used prior to, or in lieu of, passivation.
Specifications For Pickle Passivation of Stainless Steel
Keystone Pickle Passivation meets the ASTM Specification
Contact Keystone For Pickling and Passivation Needs
Keystone Corporation also offers Passivation services, without Pickling, which is suitable for components that are free of scale and existing oxides. For additional information about pickling passivation, or any other services give us a call or contact us today!