Cadmium Plating Services in Binghamton, NY
As you look for cadmium plating services in Binghamton, NY, look toward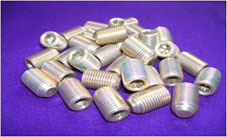 Keystone Corporation. Our expert cadmium coating will offer corrosion protection, even in low-thickness and high-salt areas, and also provide an attractive finish.
About Cadmium and Cadmium Plating
Since the 1920s, cadmium has been around as a byproduct of zinc. Appearing as an attractive white metal, cadmium plating is a very soft that can be placed on various surfaces including steel, iron, copper and more.
A cadmium coating on one of these metal surfaces serves as a "sacrificial coating," meaning that it will corrode before the surface it's covering – one of the few metals that serve this purpose. It also provides anti-galling and low friction properties, and can be completed with additional chromate conversion coverings offering different finishings.
Keystone Corporation's Available Finishes:
Clear
Yellow
Olive Drab
Black
Cad Plating's Applications
We can apply cadmium plating to your automotive, aerospace, electrical, military and consumer market products. Our plating services offer consistent and reliable coverage in a cost-effective manner. The thickness of the cad coating is adjustable to your needs and whether the project is big or small.
Contact Us
As you search for the company to provide you with superior cadmium plating services, look to Keystone Corporation. Contact us today to go over your plating needs and to receive a quote based on your project.