Chicago, IL Industrial Silver Plating
If your Chicago business is in need of silver plating, Keystone Corporation is here and ready to meet your needs! Our facilities specialize in silver plating for both small and large components. Our high electrical and thermal conductivity allows thermo compression bonding and solderability, and our silver provides excellent wear resistance of load-bearing surfaces.
Silver Plating Specifications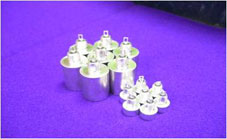 Keystone Corporation's silver plating meets the following specifications
QQ-S-365 Types I, II, & III
ASTM B700
AMS 2410
AMS 2411
AMS 2412
Grades A & B

"A"-With supplementary tarnish-resistant treatment.
"B"-Without supplementary tarnish-resistant treatment.
Silver Plating Applications In Chicago IL
Keystone Silver coatings have proved invaluable in various applications throughout Chicago, Il. Some common uses for silver coatings include:
Military
Communications
Electronics
Aerospace
Contact Keystone For Your Chicago Industrial Silver Plating
Have a few questions that you need answered? Contact Keystone Finishing today, and we would be happy to discuss your specific needs, and help you get your project started!