ASTM B766 Cadmium Plating
Cadmium plating is applied in the automotive, aerospace, and military fields, beneficial for its reliability, consistent coverage, and cost efficiency. ASTM B766 Cadmium plating thickness can be adjusted, making it ideal for both large and small projects.
At Keystone Corporation, our baking process prevents the occurrence of hydrogen embrittlement, helping ensure a more durable product, and our electrodeposited method improves the bonding of paint and adhesion, allowing you the option of an attractive final finish or allowing for the application of sealants or chromates over the cadmium finish.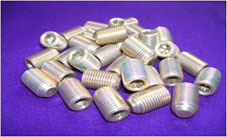 Our finish choices include:
Clear
Yellow
Black
Olive Drab
Contact Keystone Today
Since 1928, Keystone has been a leader in the metal finishing industry. We are proud to offer high quality electrodeposited cadmium plating for electronic, aerospace, mining, and defense industries. If you would like to learn more about our ASTM B766 Cadmium Plating services, please contact us today. We look forward to speaking with you.