Zinc Phosphate Coating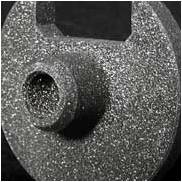 Keystone industrial zinc phosphate coating is a process that is widely used to improve corrosion resistance and paint adhesion on steel and iron parts. We have facilities for zinc phosphate coating on both small and large parts in various sized barrels and racks. Keystone's Zinc Phosphate Coating is excellent at absorbing oil or wax. Please call us today to inquire about your Zinc Phosphate needs. Our work is of the highest quality, and we guarantee our customer's satisfaction.
Specifications For Zinc Phosphate Coating
Keystone Corporation's Zinc Phosphate Coating meets the following specifications:
TT-C-490D
MIL-STL-1715 5.3.1
TT-C-490
VGS 6.2.3
*Keystone Corporation can process parts up to 10 feet in length that weigh up to 8,000 pounds
Zinc Phosphate Coating Applications
The following are common uses for zinc phosphate coating, but there are many additional uses. Give us a call if you're unsure if zinc phosphate coating is the right material for your project.
Serves as a uniform base for paint adhesion
Good non-metallic crystalline coating for absorbing oil or wax
Great way to protect parts from corrosion or wear
Contact Us For A Free Zinc Phosphate Coating Quote
Keystone Finishing has been in the metal finishing business since 1928. We ensure our customers on time delivery and professional results from our zinc phosphate coating services, every time. Our years of experience makes us one of the top metal finishing corporations in the United States, but we work with projects of all sizes. Contact us today to get a free service quote for your metal finishing project.